This 2-Ingredient Prosecco Cocktail is as easy as it sounds! All you need is Prosecco and my homemade Pear Simple Syrup for the perfect elevated homemade bubbly. Serve in your favorite coup or flutes - your guests are guaranteed to be impressed.
Jump to:
Why You'll Love This Recipe
2 ingredients - No gimmicks! This Prosecco cocktail really only needs 2 ingredients. Have this quick and easy cocktail served to a crowd in 5 minutes of less.
Can be prepped ahead - Both components of this cocktail can be prepped a few days in advance, making it easy and stress free when ready to serve.
Easy to share with a crowd - This 2-ingredient cocktail is made directly in a drinking glass, making it easy to make as many cocktails you need without difficulty. For more easy to share cocktails, you might like my Bourbon Apple Cider Cocktail, Grapefruit Gin and Tonic with Rosemary, Apple Cider Moscow Mule, and Eggnog Chai Cocktail.
Tools You'll Need
Coup glasses or champagne flutes
Cocktail spoon (for stirring)
Ingredients
To make this cocktail at home, all you'll need is a bottle of your favorite Prosecco and my homemade pear simple syrup. If desired, you can garnish with dried pear slices as the prettiest homemade garnish! Give it a try and use my method for How to Make Dried Orange Slices with pears.
Substitutions
Try another sparkling wine! Champagne or Cava are both sparkling wines that work well as a 1:1 substitute for Prosecco.
Use an alternate simple syrup. If you'd like another flavor or want to give your guests more options than pear flavored Prosecco cocktails, feel free to use another simple syrup. Elderflower syrup or Strawberry syrup would be gorgeous and delicious here.
How to Make a 2-Ingredient Prosecco Cocktail
Add pear simple syrup. To start, add 2 tablespoons of pear syrup into the bottom of the coup glasses or champagne flutes. This recipe will make up to 12 cocktails, but feel free to make as many or as few as you need!
Top off with Prosecco. Give a very gently stir with a cocktail spoon to mix the pear syrup into the Prosecco. Serve immediately!
Prep Ahead Options
Prep the Pear Simple Syrup ahead of time! It can be prepped close to a week in advance and is a great way to prep ahead for a large party or hosting.
Chill your Prosecco in advance. I like to do this at least 24 hours in advance. Don't stick the Prosecco in the freezer or the pressure will build inside the bottle and cause it to explode!
Serving Suggestions
This refreshingly sweet 2-ingredient cocktail can be served during appetizers or with weekend brunch! Here are a few of my favorite recipes to pair with:
Appetizers
Brunch
FAQs
Which Prosecco is sweet?
A demi-sec Prosecco is going to be sweetest (typically served for dessert), whereas a Brut is going to be the driest, least sweet Prosecco. If you prefer a sweeter Prosecco, go for a demi-sec if you can find it, or at the very least a dry 'sec' Prosecco.
How do you open a Prosecco bottle?
Learning how to open a bottle of Prosecco without it popping or exploding can be tricky! The best method is to twist the cork and wire cage while you tightly hold the bottle at a 45 degree angle. Once the cork comes off, continue to hold it at an angle until all the pressure releases. For best results, keep the bottle as still as possible - too much movement will cause it to fizz up.
Are Prosecco and champagne the same?
For all intents and purposes yes, Prosecco and Champagne are similar in that they are both sparkling wines and can be used interchangeably. The difference being in where they were made - Prosecco is typically from Veneto region of Italy, whereas champagne is typically French.
Tips and Tricks for Success
Wait to pour Prosecco until just before serving! Similar to any other carbonated drink, Prosecco loses its bubbliness rather quickly. For the best tasting cocktail, pop your Prosecco just before serving.
Sweeten to taste. I personally find 2 tablespoons to be the perfect sweetness, but depending on the sweetness of your Prosecco, you may want to adjust the syrup. For example, if you purchased a brut Prosecco or champagne, you may want to add a bit more pear syrup. If you used a sweet dessert Prosecco, you may just need a teaspoon or so. Remember you can always add more syrup, but you can't subtract. Experiment to taste!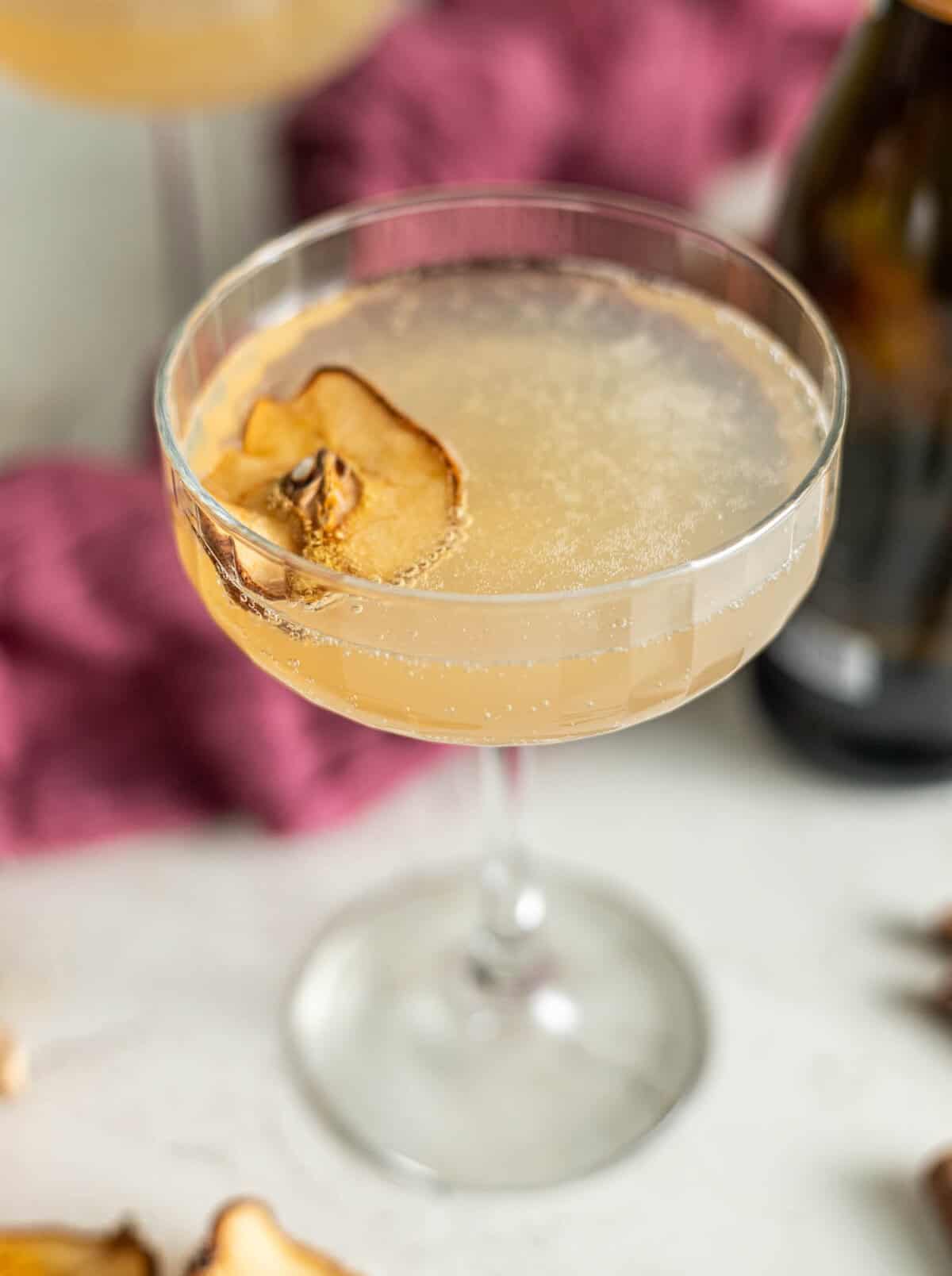 More Recipes You'll Enjoy
2-Ingredient Prosecco Cocktail
This 2-Ingredient Prosecco Cocktail is as easy as it sounds! All you need is Prosecco and my homemade Pear Simple Syrup for the perfect elevated homemade bubbly. Serve in your favorite coup or flutes - your guests are guaranteed to be impressed.
Ingredients
1

each

bottle of Prosecco

¾

cup

Pear Simple Syrup
Instructions
Place 1-2 tablespoons of Pear Simple Syrup into the bottom of a champagne flute or coupe glass.
Notes
I like to use red anjou pears, because they produce a pretty pink syrup.
This recipe makes the perfect cocktail! Simply add 1-2 tablespoons of syrup to a glass with a bit of sparkling wine. 
This syrup can be frozen for up to one month.
Nutrition
Calories:
54
kcal
Carbohydrates:
13
g
Protein:
0.1
g
Fat:
0.1
g
Saturated Fat:
0.01
g
Polyunsaturated Fat:
0.005
g
Monounsaturated Fat:
0.003
g
Sodium:
2
mg
Potassium:
9
mg
Fiber:
0.2
g
Sugar:
13
g
Vitamin A:
1
IU
Vitamin C:
0.3
mg
Calcium:
4
mg
Iron:
0.1
mg